Carbone Rainbow Cookies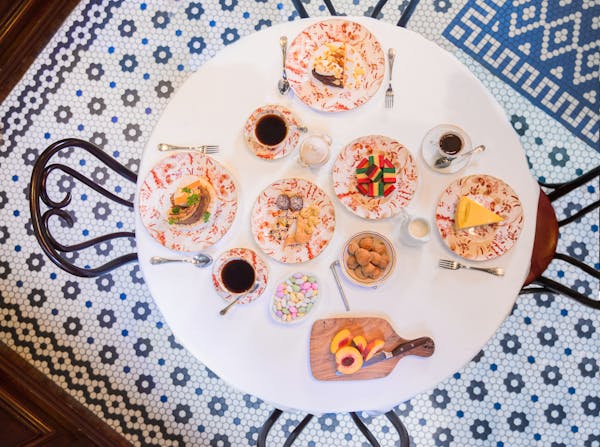 3 cups + 2 tablespoons unsalted butter, cubed, at room temperature
6 large eggs, separated
1 1/3 cups sugar, divided
12 oz. almond paste (not marzipan), chopped
2 ¾ cups + 1 tablespoon all-purpose flour
½ teaspoon kosher salt
1 teaspoon salt
1 teaspoon red food coloring
1 teaspoon green food coloring
¾ cups orange marmalade, heated, strained
4 ounces bittersweet chocolate, chopped, melted
1. Preheat oven to 350°. Line three 13x9x2" metal baking pans with foil, leaving overhang; grease with 2 Tbsp. butter; set aside.
2. Put egg whites in bowl of a stand mixer fitted with a whisk; beat until soft peaks form. Slowly add 1/3 cup sugar, beating until stiff peaks form. Transfer to a large bowl; cover; chill.
3. Using the paddle attachment, beat almond paste and remaining sugar on medium-low until incorporated, 4-5 minutes. Increase speed to medium-high; gradually add remaining butter. Beat until fluffy.
4. Beat in yolks, then flour and salt. Fold in whites in 2 additions.
5. Divide batter evenly among 3 bowls. Mix red coloring into 1 bowl and green coloring into second bowl; leave third bowl plain.
6. Spread 1 bowl of batter into each prepared pan; smooth tops. Bake, rotating pans halfway through, until just set, 9-11 minutes. Let cool in pans.
7. With a pastry brush, spread half of marmalade over green cake. Using foil overhang, lift plain layer out of pan. Invert onto green layer; discard foil.
8. Brush remaining marmalade over plain layer. Lift red layer out of pan; invert onto plain layer and cover cake with foil.
9. Top with a 13x9x2" pan. Weigh down pan with several heavy canned goods to compress cake layers.
10. Refrigerate at least 4 hours and up to 1 day.
11. Remove cans, top pan, and foil. Transfer cake to a waxed paper-lined baking sheet.
12. Spread half of chocolate over cake in a thin layer. Freeze for 10 minutes. Cover with waxed paper, invert the baking sheet on top, and flip cake.
13. Uncover and glaze with remaining chocolate. Freeze 10 additional minutes.
14. Trim cake to 12x8". Cut crosswise into six 2"-wide strips. Cut each strip crosswise into 96 1/2"-wide cookies. Store in an airtight container.