THE POOL Scampi Tortellini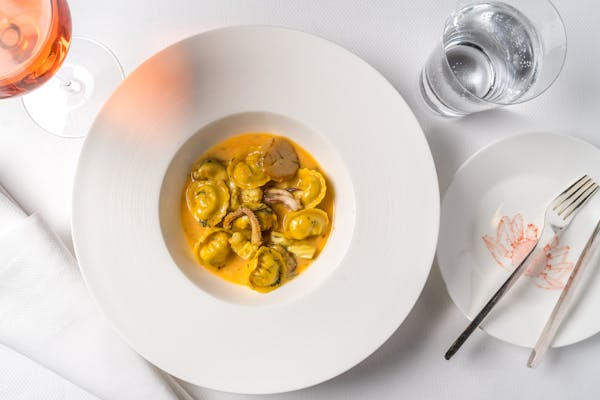 Tortellini Dough
4 egg yolks- reserve one white for the filling
¾ cup Type OO flour- Italian flour that's much more finely milled than American flour. It makes lighter pasta with a really nice texture.
Tortellini Filling
1 ounce scallops (about 1 scallop)
1 egg white (reserved from separated eggs for pasta dough)
2 ½ tablespoons heavy cream
¾ teaspoon salt
1 scant teaspoon potato starch
1 ½ teaspoons minced chives
¼ black pepper
5 ounces rock shrimp
5 ounces peeled jumbo shrimp
1 Lemon
For the tortellini
Put the flour on a clean work surface and make a well in the center of it. Add the yolks to the well and slowly work the egg yolk into the flour and knead aggressively for about 20 minutes until the dough forms a smooth elastic ball. Cover and let rest for about 30 minutes.
Roll out the dough using a pasta roller or a pin until it's fairly thin but not translucent. From the sheet, cut 28 small 2-inch fluted circles.
Place tablespoon-size balls of filling onto each wrapper and fold in half, sealing with a small brush of water. Tightly seal the edges. Bring the ends together and pinch them together creating a tortellini with an exaggerated belly.
Put them aside. (They can be refrigerated for a day, lightly floured and wrapped.)
For the tortellini filling
Rough chop both shrimp into smaller-than-bite-size pieces.
In a food processor, keeping all of the ingredients cold, quickly work the scallop, egg whites, and heavy cream until just smooth. Add the starch and seasoning and quickly pulse to incorporate.
Transfer to a bowl and add chives, shrimp, and a few scrapes of lemon zest.
Fold everything together and keep chilled.
To cook the Tortellini
Boil the tortellini in a large pot of salted water for about 4 minutes or until they bob up to the surface. Serve them simply with olive oil or butter and herbs, in a seafood brodo or with your favorite cream or tomato sauce.